Unique Fundraising Event Ideas
for NonProfits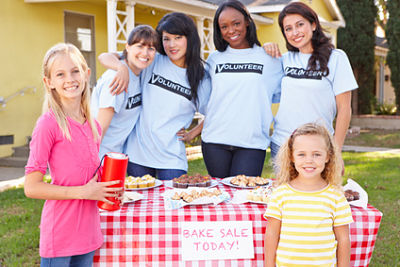 These unique fundraising event ideas are fun and profitable. Explore ideas for charity events, silent auction fundraising ideas, and more. All unique, new and creative.

If you are a not-for-profit, there are also unique ways you can conserve cash with these nonprofit fund raising ideas when you plan your unique fundraising events.
Host A Resume Writing Workshop

You can raise funds for your charity by hosting a resume writing workshop and fundraising event. You will be helping business owners, recruiters, the unemployed and the under-employed in your community!
Learn more about this easy fundraising idea.
Community and Family Day of Health and Fitness

Why not think about raising money with a focus on community health and family fitness? These types of events can be customized for most non-profits including schools, churches and youth groups.
Try these successful fundraising ideas and community fitness events
Organize a Golf Tournament
A well organized golf tournament can be the most successful and profitable fundraising event you'll ever do. 
Use my 10 Step Golf Tournament Guide which contains all you need to know to set up an unforgettable event.
30 Second Elevator Speech Fundraising Event

Everyone has their pitch ready and perfected for their moment in the spotlight at this unique fundraising event. This elite networking event connects people for possible joint-ventures, investments, partnerships, and corporate job opportunities.
Around the World in 80 Fundraising Minutes

Explore 80 countries from around the world in an international-themed fundraising event. Music, books, foods, spices, beverages, and souvenirs create an authentic experience.
Photograph guests in front of famous landmark backdrops for their world travels photo album. Cultural and educational store-like booths add to a night of simulated travel and fundraising fun.
Hold A Reverse Raffle
Everyone's familiar with raffles, but REVERSE raffles put an interesting new spin on an old idea!
Learn how to organize a reverse raffle

Not just for dummies - packed with invaluable tips and information to boost your donations
Fundraising For Dummies
The Ultimate Fundraising Food Fight

Finally, a chance for grown-ups to do all the things we weren't allowed to do as kids. Playing with your food is compulsory. Creating weird concoctions and unique dishes is fun. Starting a food fight is the name of this fundraising game.
One Giant Fundraising Wishing Well

Sell unique wishing coins for guests to throw in the fundraising wishing well for this profitable event. The bigger the coin... the bigger the wish... the bigger the donation. Make sure you know what you want... because wishes really do come true.
Learn more about this charity fundraising idea
Funniest Fund Raising Obstacle Course Ever

Create an indoor or outdoor obstacle course with cartoons, comics, and funny videos at every turn. Laughter is the best medicine and the motivation to enjoy a day of fundraising, family fun and fitness.
Guests can compete in numerous races and categories. They can win prizes for silliest, wackiest, weirdest and most outrageous costumes or masks. Check out more funny fundraising ideas you can use to make this fundraising event even more successful.
A Cupcake Me-Me Fundraiser

Guests decorate their own unique cupcakes to represent themselves. They choose from hundreds of toppings to create their one-of-a-kind cupcake. Imaginative, creative, fund raising fun for the whole family!
Wii and Wine Fundraising Event

Wii games for the kids. Wine tasting for the adults. A silent auction for raising funds. (Beer from around the world works well too... but Wii and Wine just sounds so much better.)
Find out more about a Wii and Wine Fundraiser
Cat Lover's Fundraising Furniture Workshop

Do-it-yourself (with expert supervision) fundraising event workshop to create custom cat trees and cat furniture to match your home decor.

Award prizes for the most unique, cat-friendly, and practical creations. And why not reproduce the best designs for silent auction fundraising event ideas?
Campus and College Fundraising Events

Organizing a campus and college fundraiser? These fantastic college fundraising event ideas are perfect for campuses, colleges, universities, fraternities and sororities.
10 best college fundraiser ideas
Auction Fundraising Ideas

Explore tons of creative silent auction fundraiser and auction fundraising ideas for exciting and profitable fundraising events.
Need More Fundraising Ideas for Unique Events?

Browse through the different categories in this list of fundraising event ideas for even more inspiration. You can customize most of the ideas to suit your nonprofit's needs.
Helpful Links for Fundraising Ideas

25 Event Flyer Ideas for Fundraisers

Ideas for Fundraising Activities

Flyer Templates for Fundraising Events
Hold a Heads or Tails Raffle at Your Fundraising Event

School Fundraiser Ideas

Home Page