Bake Sale Ideas for Fundraising
And Successful Bake Sale Events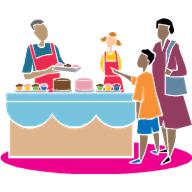 These delicious bake sale ideas will help you create a unique bake sale event to raise funds for your favorite school, church or charity benefit.
Having a successful bake sale idea is wonderful but... if you want to attract lots and lots of hungry, generous customers you need to advertise your bake sale as much as possible.
Use as many of these great promotional ideas as possible to create a buzz about your non-profit fundraising event.
20 Bake Sale Ideas for Holidays and Special Occasions

New Year's Day Healthy Bake Sale
Groundhog Day Bake Sale
Valentine's Day Flowers, Candy and Bake Sale
Easter Egg Hunt and Bake Sale
Mother's Day Bake Sale
Father's Day Bake Sale
4th of July Bake Sale
Independence Day Bake Sale
Election Day Bake Sale
Tax Day Bake Sale
Peace Day Bake Sale
Halloween Bake Sale
St. Patrick's Day Bake Sale
Christmas Day Bake Sale
Black Friday Bake Sale
Spring Day Bake Sale
Summer Vacation Bake Sale
Fall or Autumn Bake Sale
Winter Bake Sale
Earth Day Bake Sale
Earn up to 50% profits selling yummy pretzel rods at your bake sale!
Thick, crispy pretzel rods dipped in milk chocolate and chunks of candy. Mmmmm!


Prizes and Motivation for Your Bakers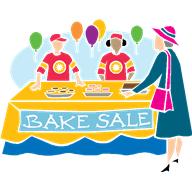 If you want to attract more volunteer bakers to donate their time and their baked goodies to your fundraising event, add this fun element to your next bake sale.
Announce an exciting contest with great prizes. A fun competition for your bakers will bring out their creative side as well as their competitive spirit.
Not only will you get more people excited about baking, but they will also end up baking more sweet goodies, especially if there are prizes in different categories.
You can offer prizes at your bake sale based on any or all of these categories:
Largest cake
Smallest cupcake
Healthiest muffin
Most decadent chocolate chip cookie
Most original display
Most creative bake sale price tags
Most unique banner
Most delicious brownie ever
Nuttiest cookie
Fruitiest cake
Cutest kid's cookie
Easiest bake sale recipe
Most creative recipe card
Most colorful cookie
Gooiest cookie
Cheesiest cheesecake
Ideas to Promote Your Bake Sale

Having a fun bake sale idea is great but... if you want to attract lots of open-to-buy, generous customers, you need to advertise your bake sale as much as possible.
Here are a few promotional bake sale ideas you can use to let the world know about your amazing fundraiser.
Let the TV stations know about your exciting event. Tell them about the variety of baked goodies, your specialties, and your contests and prizes. If they are willing to be there to televise your bake sale early in the morning... you'll have a wonderfully profitable day.


The same thing that applies to the TV stations works with your local radio stations. You can even take in a platter of samples for the radio crew the day before your bake sale. Ask if you can trade baked treats for free air time and day long promotions.


Advertise your bake sale fundraising event in as many local newspapers as possible. Many will give free advertising space for non-profit organizations.


The internet is going to be your best friend when it comes to promoting your bake sale. Use social media to your benefit as much as possible. Post photos, videos, tweets and website updates to your friends and followers. Ask everyone to like your fundraising event and to re-tweet your posts. The viral effect of the internet works wonders to get the word out in a hurry.


Craigslist is also a wonderful free resource you can benefit from. You can place a free ad with all your details into the weekly happenings and community listings.


Send out emails or electronic greeting card invitations to everyone on your list and ask them to invite their friends, relatives and neighbors to your bake sale. Plan ahead so you have enough baked goods for a really large crowd.


Display bake sale flyers and posters in as many locations as possible. Community boards, public libraries, and even other schools and churches may allow you to promote your event within their communities.
Your bake sale is a great place to sell customized dish towels and reach your fundraising goals more quickly.
Find out more...
Bake Sale Flyer and Poster Ideas

Create eye-catching bake sale flyers and informative bake sale posters that are unique for your school, church and charity bake sales and fundraising events.
Selecting the right fundraising flyer and poster for your bake sale is an important factor in your fundraiser's success.
You can choose from a unique collection of poster and flyer templates that will match the theme, season and content of your bake sale.
You can also personalize and customize your favorite flyer and poster with the details of your bake sale and your nonprofit organization.
Creative Bake Sale Flyer Ideas for these Fun Bake Sales:
Great American Bake Sale
School Bake Sale
Christmas Bake Sale
Craft and Bake Sale
Halloween Bake Sale
Cupcakes Bake Sale
Kids Bake Sale
Church Bake Sale
Car Wash and Bake Sale
Snowman Treats Bake Sale
Fall Bake Sale
Monkey Bread Bake Sale
Helpful Links and More Bake Sale Ideas


Bake Sale Ideas: Posters

Bake Sale Flyers
Sign Up Sheet for your Volunteers

School Fundraiser Ideas

Unique Fundraising Ideas

Coffee Fundraisers

List of Fundraising Ideas

Return to Home Page