Fun Fundraising Ideas for
Successful Fundraisers

These fun fundraising ideas are funny, different, creative and new and will help you make your unique fundraiser an enjoyable success.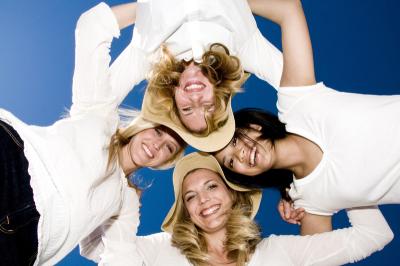 Tattoos for everyone
Monster Coloring Fun
Goofy Family Photo Day
Big Bubble Fun Day

Gluten-Free Bake Sale
Nursery Rhyme Karaoke
Mini-Golf in High Heels
Pony Rides
Mural Wall
Open Air Movie



A Funny Fundraising Idea
Tattoos for Everyone

Temporary tattoos that is! This funny fundraising idea can be an event in itself or a fundraising booth or activity at any fundraiser.
Imagine babies and grandparents, teachers, principals and pastors covered in funny tattoos. Everyone has fun... and no damage is done.
This easy fundraising activity also lends itself to funny photo opportunities for a calendar fundraiser in the future. You can hire a professional photographer (or ask one to donate his or her time) and sell printed and framed photos on the day of your fundraiser too.
Have fun!
A Creative and Fun Fundraising Idea
Monster Coloring Fun

Although this is a fun fundraising idea for kids and for preschools, grown-ups like to color too. You can add this as a fundraising activity to many of your fundraising events. It's a great opportunity for family time and bonding, and for bringing out the inner-kid in everyone.
Create, print or buy the largest coloring-in templates that you can find. If you are having a themed, unique fundraising event, you can choose coloring-in wall posters to match your theme.
This creative fundraising activity is fun, inexpensive, and easy to organize... and cleaning up at the end of the day is a breeze.
A Simple Fundraising Idea
Goofy Family Photo Day

This simple fundraising idea is a fun way to bring families together and raise money for your charity. For the goofy, silly photos you can ask everyone to bring hats, masks, funny Halloween costumes, wigs and make-up along.
Families can have fun selecting funny outfits for their individual photo shoots.
A Fast Fundraising Idea
Big Bubble Fun Day

You're never too old to enjoy playing with bubbles! Think giant bubble wands and bubbles in a park or at the beach for this fast, fun fundraiser.
Give out prizes for the biggest bubbles, bubbles that last the longest before they pop, and for the bubbles that go highest into the sky.
Purchase enough bubble wands and bubbles to sell... and you have a fun, fast fundraising idea.
A New Fundraising Idea
Gluten-Free Bake Sale

This unique fundraising idea for a bake sale works best in a large city or metropolitan area. With the increase in food allergies in recent times, there is a big demand for delicious, wheat-free and gluten-free baked goodies and treats.
Advertise this bake sale fundraiser with eye-catching bake sale flyers and bake sale posters and you have a profitable fundraising event that will be very appreciated.
A Different Fundraising Idea
Nursery Rhyme Karaoke
We've all done karaoke, right?
But I'll bet you've never tried nursery rhyme karaoke!
The kids will absolutely adore this fun fundraising idea, where everyone pays to take part and the winner receives a prize!
You can find the karaoke versions of lots of favorite nursery rhymes here on Youtube.

An Easy Fundraising Idea
Mini-Golf in High Heels
As if having everyone to try play mini-golf in high heels isn't fun enough, why not get some heels for the men and let them play too?
Once again, have competitors make a donation to compete, with a prize for the winner.

A Great Fundraising Idea
Pony Rides
Such a simple idea, but SO much fun for kids, especially if you're in an inner city area where their contact with farm animals is limited.
Ensure you find a responsible pony owner to provide the rides and that safety precautions are met as required. This will be a fundraiser the little ones will never forget!

A Unique Fundraising Idea
Mural Wall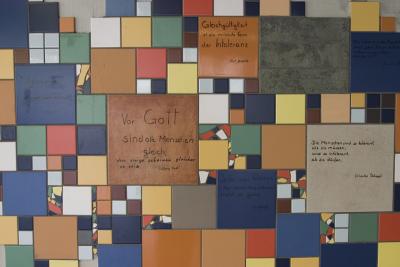 If you have a bare wall at the venue for which you're trying to raise money - and you have permission to decorate it - then a mural wall is a fantastic and fun idea.
Ask all participants to make a donation, then get to work transforming the wall into a work of art. You might like to allow them to personalize their contributions to the mural with slogans and signatures, which can REALLY help increase participation!

The Best Fundraising Idea
Open Air Movie
This is a regular event in our community and a huge family favorite.
Simply screen a movie in an outdoor area and invite everyone to bring their own folding chairs and some blankets to wrap up nice and warm so they can enjoy the show!
Screen the movie at night for the best picture (we do it on moonlit nights so it's not TOO dark) and ensure you have good quality sound equipment - it's not much fun if you can't hear the dialogue!
Make sure you have the appropriate permissions to screen a movie for a group in your area, then sell tickets to your show.
For maximum fundraising success, sell easy-to-serve and easy-to-hold snacks and drinks for your moviegoers to enjoy.
More Fun Fundraising Ideas
and Unique Fundraiser Events

Unique Fundraising Ideas and Events

Top 20 Creative and Fun Fundraising Ideas
How to Organize a Reverse Raffle
Heads or Tails Raffle - LOTS of Fun!

School Fundraiser Ideas

Fun Bake Sale Ideas

Auction Fundraising Ideas

List of Unique Fundraising Ideas A-Z

Return to Home Page