Candle Fundraising Ideas

Candle fundraising ideas – learn how to organize your fundraiser efficiently and see maximum profits for your group.
So What Exactly IS a Candle Fundraiser?
The concept is simple – representatives from your group or organization sell candles for a profit via various methods… The profits, of course, going to your group.
There are two main types of candle fundraiser…

You sign up with a company that specializes in selling candles for fundraisers. Typically, they send you catalogues/brochures, your customers pick the candles they want, you send completed order forms and the payment back to the company, and they send you the candles your customers requested. Profit margins vary but are, on average, about 50% – in other words, your group makes 50% of the purchase price of the candles.


Your group makes their own candles, then either produces its own brochures or simply sells the candles directly to customers.
The comparison table below will help you decide which of these candle fundraising ideas would work best for your organization…

| Using a candle company | Making your own candles |
| --- | --- |
| There is a wide variety of ready-made candles for your customers to choose from. | Your group will need to make candles from scratch (it's actually easier than you'd think – see below) so the variety may be more limited. Also, a certain amount of time will need to be invested. |
| You don't usually need to spend any money to get started. You simply send off your customers payments with the order form. | You will need to invest in the materials needed to make the candles. |
| Brochures are usually supplied by the candle fundraising company, at no cost. | If you decide to use brochures, you will need to make them yourself. |
| Unless you order samples in advance, you may not have any physical samples to show (i.e. tempt) prospective customers. | You will have plenty of samples to hand to entice buyers. |
| You may have to pay for shipping costs if a minimum order is not met. | No shipping costs involved. |
| You could run into customer service issues with missing/out of stock items. | You know you can fulfill your orders as you have your stock to hand. |
| People may become weary of standard candle fundraising brochures and products that they have seen before. | People may be more likely to buy from you if they know your candles have been handmade by your own group's members. |
| Some companies will deliver directly to customers. | You will need to arrange your own delivery to customers. |
| Customers may be less likely to order because they have to wait to receive their candles. | You can appeal to customers' needs for 'instant gratification' – they can take their candles home with them immediately. |
| A certain percentage of the purchase price of the candles goes to the company, the rest to you. | ALL of the purchase price of the candles is yours, so profits can be higher (once you've deducted your initial expenses, of course). |
If you appreciate that customers like the 'instant gratification' of being able to buy their candles and take them home immediately - but you don't want to actually MAKE candles to sell - think about buying in bulk from a candle fundraising company, then selling them yourself. 

Since candles are not perishable, you can save any unsold stock for another occasion.
Candle Fundraising Ideas – Making Your Own
Getting your group together to make the candles can be fun (you could also sell refreshments at the event to get the most bang for your buck!).
For all you need to know to create your own stock for your candle fundraiser, check out
Candle Making Genius - How to Make Candles That Look Beautiful & Amaze Your Friends
. You can also buy
all your supplies online
.
If you're more of a visual learner, look up 'candle making' on YouTube - there are lots of free demonstration videos to help you get started.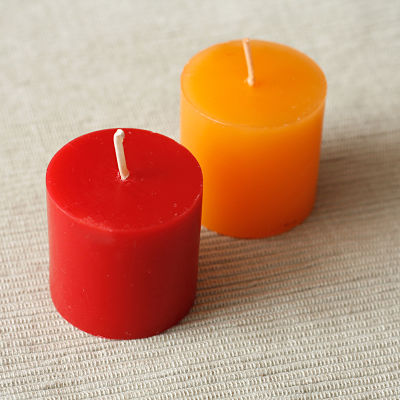 Why are Candle Fundraisers So Effective?
Because they're so easy, particularly if you opt to use a company to supply candles to your customers.
Candles appeal to a wide market - people either want them for their own homes, or to buy as gifts for others. Some fundraisers (such as those involving candy) can have limited appeal - a percentage of your target audience may be trying to avoid unhealthy foods, for example. But almost everyone is happy to buy candles!


Candles make great gifts, so people will buy LOTS of them... in excess of what they need for themselves.


A candle fundraiser fits most budgets, so you will have something for everyone.


 Unlike food and other products, candles  are not perishable, so you can encourage customers to buy in bulk.


If you choose to use a candle fundraising company, there is no upfront cost. There may not even be a minimum order requirement.
Candle Fundraising Ideas - How to Choose the Right Company to Work With
There's no 'one size fits all' answer to this, as the perfect company for YOUR group depends on variables, such as the size of your customer base, the number of people you will have selling your candles, etc.
When choosing the right company, here are some important factors to take into consideration...
What percentage of the profits can your organization expect to receive (higher isn't always better, if - for example - there are any hefty costs to pay).


Is there a charge for shipping?


Is a minimum order required?


Do you receive a discount for ordering a larger quantity?


Does the company offer 'green' (eco-friendly) candles?


Are there plenty of different styles of candle to choose from?


Is there a sample kit available?


Is their brochure attractive and of a high quality?


Does the company offer customized candles?


What is their policy for dealing with broken stock?

Other Candle Fundraising Programs
How to Maximize Your Profits!
Here are some surefire ways to get the absolute MOST out of your fundraising event...

Hold the event to coincide with some type of 'celebration'
...then encourage customers to purchase the candles as appropriate gifts. Ideas include Christmas, Valentine's Day, Mother's Day, Easter and Halloween.
Encourage bulk buying
...by pointing out to customers that they could quite feasibly buy enough candles to ensure they have a supply of gifts on hand to last them a whole year! Mention that they could gift them at bridal showers, baby showers, or as 'get well' presents. They could be given as a house-warming or thank-you gift and are ideal for 'secret Santa' too!


Advertise your candle fundraiser THOROUGHLY in advance
Use every means at your disposal - newsletters, your website,
flyers
, community noticeboards, community pages on social media, local radio, local newspapers etc.
The more candles you sell, the more money you make
It's as simple as that! So ensure your representatives sell to the MAX by motivating them to do so. Offer a big prize for the person who achieves the most sales overall, plus smaller prizes for everyone who sells over a certain amount.


Train your sellers in the art of persuasion
Ensure they are using effective sales techniques to entice customers. They should introduce themselves AND your group, with a smile. They should explain how the money they are raising for your group will be used. They should show samples (see below) and recommend their favorite candles. And they should - of course - be scrupulously polite.


Double your efforts
If you intend to make your candle fundraiser into an 'event' (ie, invite people along to a specific venue in order to view candles/brochures and to order) - coincide it with ANOTHER fundraising event (like a bake sale). Do the same thing if you've planned a 'pick up day', for customers to collect their orders.

Play piggyback!
See if someone else is holding some type of event that will draw a crowd and ask if you can sell your candles there, too.


Set a time limit
If you are sending out group members with brochures to sell to friends/family/colleagues etc, be sure to limit the duration of your fundraiser to no more than 2 weeks. If people think they will have to wait longer than a few weeks to receive their candles, they are less likely to order them.

Get personal
If possible, offer customized candles. Although they tend to be more expensive, they sell well.

Go green
Ensure you offer a 'green' option for environmentally conscious customers. The types of candles considered to be green are those with lead-free wicks and soy based wax, plus those using recycled packaging.
Samples are CRUCIAL
Take samples with you when selling from a brochure. If the candle fundraising company doesn't offer sample kits, then it's worth ordering a few candles just for this purpose. This is particularly important for selling scented candles. It's hard to convey the beauty of a scent with words! If you DO take scented candles out with you, make sure you have some appropriate for the season (eg. cinnamon at Christmas).


People DO judge a book by its cover
So ensure the brochure you're showing people is professional, colorful and attractive. This is one of the most important factors in achieving impressive sales.
Accessorize!
Think beyond candles and offer your customers extras, like candle jars to hold them! If you're making your own candles, customize some plain jars and sell those too.


A final note...
Please remember that candles need to be stored in a cool place and that any children involved in selling are accompanied at all times by an adult. They also need to know that glass candle holders must be handled very carefully.
I do hope you've been inspired by all these candle fundraising ideas and that your event is fun, successful and profitable.
More Ideas to Try...
An A-Z List of Fundraising Ideas
A Tea Towel Fundraiser - GREAT for Kids!