A Simple Fundraising Idea
An Inside-Out and Back-to-Front Fundraiser
This simple fundraising idea, an inside-out and back-to-front day fundraiser, is easy to organize and is guaranteed to help your organization raise funds fast.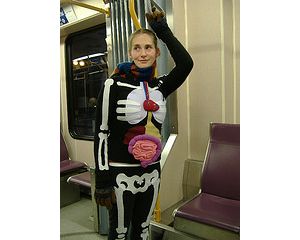 Photo Courtesy of Flickr Creative Commons: Inside-out on the bus from shabadooq
You can organize this simple fundraiser any time and any day of the year. However, you will undoubtedly raise more funds for your charity or non-profit by saving this fun and easy fundraising idea for the winter months.
The objective of this fun fundraiser is to ask everyone to wear their clothes inside-out, or back-to-front, or both, for an entire day. Every item that they wear is worth a predetermined amount and buys them a raffle ticket for a prize.
The more items they wear, the more funds you raise, and the greater their chance of winning the raffle.
This easy fundraising idea is perfect for:
Here is an example of how this fun fundraiser works. Let's say John is wearing his pair of socks, underwear, sweat pants, t-shirt, sweater, pair of gloves, and his wool hat inside out. That is a total of 9 items. If you determined that each item is $1, then John pays $9 for the fundraiser AND receives 9 raffle tickets for 9 chances to win one or more awesome prizes.
By wearing his hat, t-shirt and sweater backwards as well, John can buy himself 3 more raffle tickets. It's that simple and easy to raise funds with this simple and profitable fundraising idea.
Have Fun!
Great Resources for Unique Fundraising Ideas:
List of Unique Fundraising Ideas A-Z

Top 5 Simple Fundraising Ideas

School Fundraiser Ideas

Home Page