Fundraising Christmas Ideas for Church and School Fundraisers
Celebrate the holidays and raise funds with these fundraising Christmas ideas for profitable church fundraisers and fun school fundraising events.

These Christmas fundraising ideas can be a great source of fund raising for your church fundraising group, your Christian preschool, Christian elementary school or Christian high school. Find one or more ideas for your Christmas fundraiser and RUN WITH IT...
Fundraising Christmas Ideas for a Santa Fun Run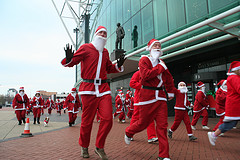 Photo courtesy of Flickr Creative Commons: Charity Santa fun run from HowardLake
A Santa Fun Run is a fun way to kick off the holiday season and raise funds for your non-profit organization.
Ask volunteers to buy, borrow or rent Santa Claus costumes for your Christmas Fun Run. The more volunteer Santas that you can round up, the greater the fun.
For the kids... simply ask that they wear red and white attire to join in the race.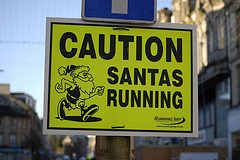 Photo courtesy of Flickr Creative Commons: Jingle Bell Run '08 from visualcandy7
You can make this a run or walk fundraiser... perfect for families, dogs, and those that may want to join in the fun but are not physically able to run the course.

Decorate the course with Christmas gift stalls, Christmas trees, home-made decorations and Santa signs. Make sure that the refreshments you offer for sale fit with your Christmas theme.
If you do plan on raising funds through the sale of Christmas trees, these Christmas Tree Shop flyer templates will help you promote your Christmas fundraising event.

A Christmas Bazaar Fundraising Idea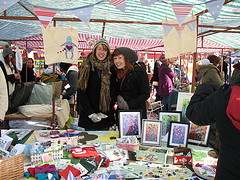 Photo courtesy of Flickr Creative Commons: The Girls from Nottingham Trent... from curiosity.haus
Another Christmas fundraising idea is to incorporate this easy church fundraising idea... a community wide barter fair with your church bazaar.
This allows everyone who attends your bazaar to trade their unwanted items for great Christmas gifts for friends and family.
Of course, no Christmas Bazaar is complete without a Christmas Bake Sale that includes homemade gingerbread cookies.

Gingerbread Cookie Christmas Fundraising Ideas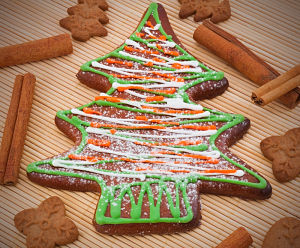 A fun Christmas fundraising idea for kids is a bake day complete with supervised baking and clean-up.
Offer prizes for the biggest cookie, the smallest cookie, the most unique cookie shape and the tidiest baker of the day.
The baked gingerbread cookies can be wrapped and purchased as Christmas gifts, sold at a Christmas bazaar or Christmas bake sale, or made into personalized Christmas tree ornaments.

Christmas Tree Church Fundraiser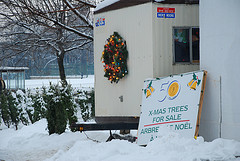 Photo courtesy of Flickr Creative Commons: Christmas Trees For Sale from Loreleianne
Christmas wouldn't be Christmas without a Christmas tree. Most churches and schools have the available space outside to set up a Christmas tree sale.
If you don't have the available space, or you are not in an ideal location, ask a local car dealer or grocery store if you can use part of their car lot for the few weeks leading up to Christmas.
You can combine these fundraising Christmas ideas and sell Christmas trees, Christmas tree ornaments, gingerbread cookies and other holiday baked goods, as well as arts and crafts... all at the same time.

Sell Funny Christmas Stamps from Zazzle
Funny Christmas stamps are a wonderful way for your church or school to raise funds during the holidays.
These Christmas stamps from Zazzle are unique because you can customize them for your church or school Christmas fundraisers.
Funny Christmas Stamps
by
christmastees
Browse more
Funny christmas Postage

Christmas Gift Wrapping Service


We all love buying Christmas gifts and we all love receiving them... but most of us do not relish the thought of wrapping them all, particularly when there are SO MANY other things to do!
So a great way to raise funds for your organization at Christmas time is to provide a gift wrapping service.
Purchase a large quantity of gift wrap and some nice accessories (bows, ribbon etc). Then advertise a time and place at which you'll be wrapping gifts.
Gather a small group of volunteers, a couple of tables, plus your gift wrapping supplies, take them along to your advertised venue, then wrap gifts for your happy customers!
Set a price per wrapped gift, varied according to size, and clearly display the prices. This is an easy-to-implement idea that can be very profitable!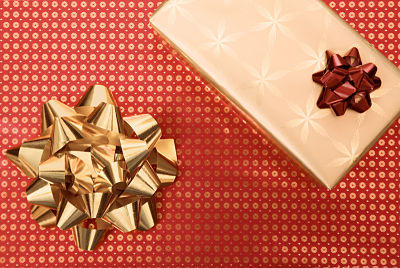 Helpful Links for Additional Fundraising Christmas Ideas:
More Church Fundraising Ideas for Christmas 

Church Flyer Ideas for Christmas

Church Posters

Christmas Tree Shop Flyer Ideas

Complete List of Fundraising Ideas from A-Z