Creative Babysitting Flyers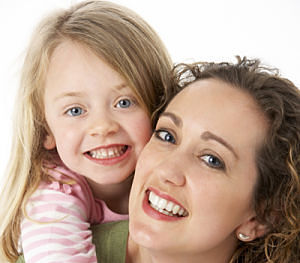 Customize these fun and creative templates for babysitting flyers. They are an excellent way to advertise and promote your babysitting business or babysitting fundraisers.
All of these flyers are from Zazzle.com - once you click on the flyer, you'll be taken to the Zazzle website where you can add your customization and place your order. Delivery is fast and the flyers are of exceptional quality!

TIP: 
I strongly recommend tear sheets for promoting your babysitting business. Enabling customers to easily take away your telephone number is better than hoping your potential customers have a pen - or a good memory - when they see your flyer!

Babysitting Promotional Tear Sheet Flyer

Need a BabySitter? Flyers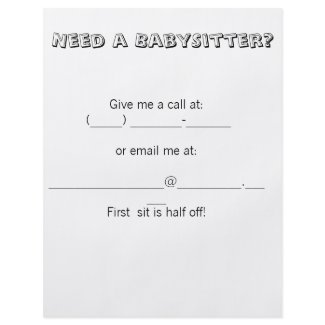 Need a BabySitter? Flyers
by
sunsetrainbow
Browse more
Babysitter Flyers
Baby Sitter Flyer Fun Zebra Print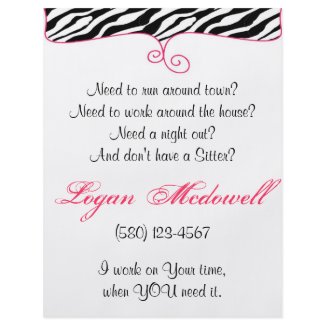 baby sitter flyer fun zebra print chic cute pink
by
HollyMusolf
Make flyers
online at zazzle.com
Mod Birds Babysitter Advertisement
Personalized Flyer

Mod Birds Babysitter Advertisement Personalized Flyer
by
amykaren
Make flyers
online at zazzle.com
The Fun BabySitter Who Cares Flyer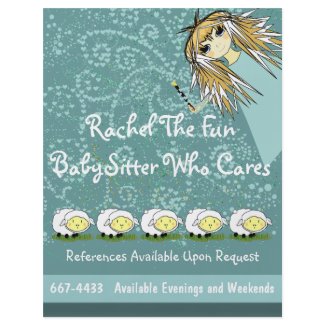 The Fun BabySitter Who Cares Flyer
by
samack
Create a flyer
online at zazzle
Kids Playing Outdoors on a Sunny Day
Full Color Flyer

Bright Eye Heart
I Love Being a Babysitter Flyer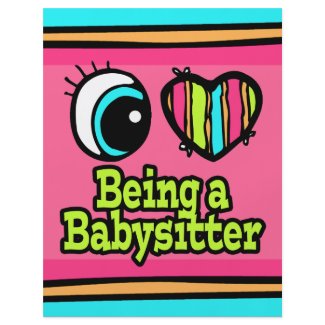 Bright Eye Heart I Love Being a Babysitter Flyer
by
super_shop
Create a flyer
online at zazzle
Teen Queen Babysitting Service Flyer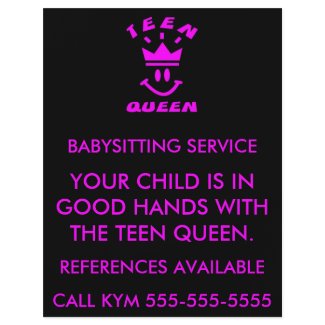 TEEN QUEEN FLYER
by
Baysideimages
Browse
Classes Flyers
Bumblebee Theme Child Care Flyer

Babysitting Custom Tear-Sheet Flyer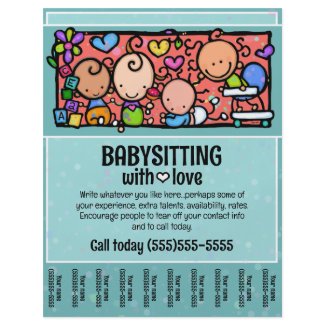 LittleGirlie Child care custom tear-sheet flyer
by
LittleGirlies
Create your own
cheap flyers
on zazzle
Babysitting With Love Tear-Sheet Flyer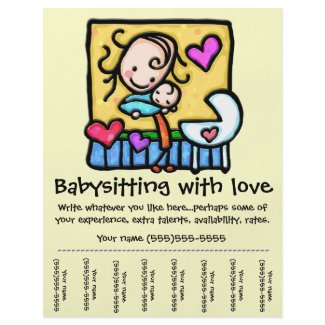 LittleGirlie Babysitting custom tear-sheet flyer
by
LittleGirlies
Create
professional flyers
on zazzle.com
Cozy Nest Child Care Flyer

Child Care Flyer with Tear-Off Info

Ladybug Theme Child Care Flyer

Helpful Links for Promoting Your
Business or Fundraising Event

Flyer Templates and Designs

No Frills Babysitting Flyers

Fundraiser Flyers

Top 20 Creative Fundraising Ideas

List of Fundraising Ideas

Home Page