4 Types of Fundraising Ideas Every School Should Be Thinking About
School's in session! How are your grades in Fundraising Class looking? Are you cruising with a B+ or sinking with a D-? 
Before the next fundraising report card comes in, make sure that you are taking a hard look at how your school is asking for donations. 
Every student can use a little help studying for their final exams, and your school might need some assistance with your fundraising strategies.

If that's the case, we've got the perfect study guide for you.

Whether you want to start a year-long fundraiser or are looking for an easier way to accept donations online, our four types of fundraising ideas will have you passing with flying colors.

Take a look at the four types of fundraising ideas every school should be using to make the grade next semester!

1. Online School Fundraisers
Let's face it. Many of your students (and faculty, and staff, and students' parents) are online nearly all the time.
Whether they're checking Facebook or buying something on Amazon, those closest to your school are all online.

Why not use that avenue as a way to raise some extra cash for your school? 

Take a look at these three ways to raise money for your school online:
Crowdfunding
Do you host an annual walkathon? Do you need to raise more money but simply don't have the time to reach all of your prospects? 
Try crowdfunding!

Also known as peer-to-peer fundraising (or P2P fundraising), crowdfunding is an easy way to raise money online for your school. 

Set up a page on a crowdfunding page explaining what you're trying to raise money for. Then, share the page with your students and their families as well as your faculty and staff. Once everyone donates and shares the page with their network, you'll gain new supporters and raise money in no time!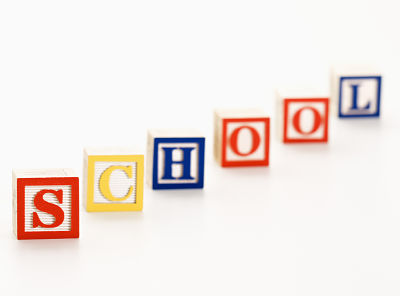 Mobile Responsive Online Donation Pages
Your school can raise money all year long if you set up an online donation page that can be viewed on mobile devices. 
Most of your students and faculty have smart phones and use them regularly. Make sure that your online donation page can be viewed on these devices to make giving on the go even easier!

Learn more about raising money online with these tips!

Matching Gifts
Did you know that $6-10 billion in employee matching gifts go unclaimed each year? Promote matching gifts to make sure your donations don't stand alone.
Matching gifts are like donation companions.  Supporters give your nonprofit a certain amount, submit a form to their employers, and then the employer gives your nonprofit a donation of similar or greater value. 
And a nice part is most major companies that offer a matching gift program now have easy to use online submission processes so their employees can submit their match requests in minutes.
Learn more about matching gifts.
2. Year-Long School Fundraisers

Some fundraisers last a day or a week, but what if you want to host a year-long fundraiser?
Year-long school fundraisers can be excellent ways to encourage students to get in on the fundraising process. Take a look at these two examples of year-long school fundraisers:

Penny Drive
A penny drive is one of the most simple and effective ways for schools to raise money. All you have to do is set out containers in the school entrance or throughout the hallway. Students can then drop off their change (it doesn't just have to be pennies!) throughout the school year.
You can even turn it into a competition between classes or grades. Whoever raises the most money by the end of the year gets a pizza party or extra time during recess.

Bottle and Can Drive
If your school wants to do a bit of recycling and raise some money in the meantime, try hosting a year-long bottle and can drive!
Similarly to a penny drive, a bottle and can drive requires schools to set out containers to collect students' bottles and cans. 

You can also make the bottle and can drive a competition between grades or classes throughout the year.

Every time you have enough bottles and cans, take them to your local recycling center to claim your cash!

For more school fundraising ideas, view All Unique Fundraising Ideas' school section or Double the Donation's list of school fundraising ideas.
3. Educational School Fundraisers
Fundraisers don't just have to be money-making opportunities. Your school can also use them as educational opportunities!
Check out a couple ideas for educational school fundraisers:
Make a Snake
If one of your classrooms is studying snakes or reptiles, try hosting a Make a Snake fundraiser. 
Essentially, students will bring in spare change and bills on a designated day. Then, the classes each make a "snake" with the coins and bills. Whoever has the longest "snake," wins!

You can use the opportunity to teach your students something interesting about snakes while raising a little extra money.

You can change the object or animal your students make depending on what you're teaching. The possibilities are endless!
Read-a-thon
If you struggle with getting your students to read, try incentivizing them with a read-a-thon fundraiser.
Students must first obtain pledges from their family members, neighbors, and friends for how many pages or books they read.

Then, over the course of a month, a semester, or a year, students must log the number of pages or books they read. 

Students then collect the pledges they secured. Your school raises more money, and your students read more books! Everyone wins.

4. Low-Cost School Fundraisers
If you want to raise money for your school but can't afford to pay a lot of money to host an event, look no further!
Check out these low-cost school fundraisers:

No Uniform Day
If you work at a private or independent school that requires school uniforms, a free way to raise money is to host a No Uniform Day. 

Tell students a week or so in advance about the No Uniform Day by making announcements and hanging flyers.

When the day arrives, any student that wants to participate can simply pay a small fee to do so.

Even if your school is relatively small, you can still raise a substantial amount of money by hosting a No Uniform Day.

Teachers in Jail
Do your teachers need a break? Are your students restlessly sitting in class, wishing they could be outside? Does your school need to raise money?
If the answers to these three questions is a resounding, "Yes!" then you should host a Teachers in Jail fundraiser.

All you'll need to do is advertise the day a few weeks in advance. Then, charge each class a certain fee (a couple of dollars per student) to put their teacher in "jail."

In reality, the jail is just the classroom. The students get to go outside on the playground or hang out in the gymnasium. Teachers get to do a little grading and planning while students get some free time.

If your school is on a seven or even four-period schedule, you have the potential to raise a ton of money with a Teachers in Jail fundraiser. And it costs nothing to implement!
So what are you waiting for? 
Go get an A+ with these essential types of fundraising ideas for schools!
More useful resources...
Printable sign-up sheet for your volunteers